Andy Kind – Comedian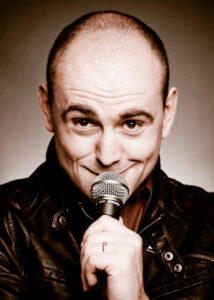 Andy won Anything for Laffs in 2005 and recently hurdled over the 2000-gig barrier. Described by The Scotsman as 'Terrific', Andy's stand-up style can best be described as 'the joyful rant of a post-30 chaos vacuum', and he has been featured on BBC1, ITV, Channel 4.
"Andy Kind was absolutely hilarious!" – Guardian
"I laughed, cried, laughed some more. Andy was hilarious. His opening routine was totally off-the-cuff as he bantered with the audience – this spontaneous comedy was genius. As good as anything I've seen on Live at the Apollo." – Crown Church, Hillingdon
"Andy took the roof off during our event earlier this year! A packed house for an hour of belly laughing, alongside a genuine and cringe-free provocation for people to explore the claims of Christianity made it one of the best evenings we've done for guests." – Kings Arms, Bedford.